We are continuously working to update this site!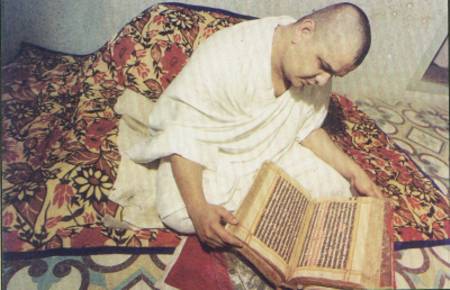 Avichaldasji Maharajshri is the nerve centre of all the activities. Maharajshri is real source and power for the Gnan Sampradaya. He remains busy with the religious activities of the Sampradaya throughout the year. He meets every follower and visits every village. He has traveled extensively in and outside the India. As a head of the Gnan Sampradaya he preaches the message of the Paramguru and propagates the massage of the Paramguru assiduously. Maharajshri continuously holds Parayans to explain the message of the Paramguru in general and Shibirs to teach the writings of the Paramguru. Every word, every Chopai(couplet) and every book written by the Paramguru are taught by him. His religious discourses have strengthen the faith of the disciples. The disiples have become rich religiously.
Avichaldasji Maharajshri is an able organizer. The four big Mahotsavs, held in Sarsa in 1982, 1987, 1992, and 1997, are the glaring examples of his organizing potential.The Maharajshri has organized one Vedic Mahotsav at Chicago, U.S.A, in 1995. Even state level Sammelan of the Viswa Hindu Parishad(VHP) organized by the Maharajsri at Sarsa. Avichaldasji Maharajshri has invited all the heads and the Acharyas and the leading saints of the Hindu religion to Sarsa in all these Sammelans.
Avichaldasji Maharajshri has rejuvinated the Gnan sampradaya through his various activities. He founded the Sat Kaival Gaushala trust and started on Gaushala at Sarsa in 1976. This gaushala is considered one of the best in the state of Gujarat and has won prizes at both the state and national levels. He had built the grand Avinashi Sadan, a residential complex for the Acharya and the devotees at the Gurugadi Sarsa. The Acharya has also founded Kaival Gnanpeeth Mahateerth Annakshetra at Sarsa which provides free of charge lodging and boarding facilities to thousands of pilgrims. He has build one ashram at Banaras and is building in at Haridwar in North India. Many temples of the Sampradaya are either renovated or newly built under Acharya's guidance. The Gnan Sampradaya Kelvani Trust gives financial help to many schools in tribal areas. To help solve the water problems of Gujarat, particularly of the Dangs district,the Maharajshri has started "Sat Kaival Water Mission" which will provide technical as well as financial support to the government of the state of Gujarat.
Avichaldasji Maharajshri Has provided strong leadership to Sant Samaj and the Hindu community. His religious, hummanitarian, organisational, educational, medical and agricultural activities have helped the Sampradaya and the mankind and its impact has made his name to be reckoned with. The Gnan Sampradaya and the People are proud of him.